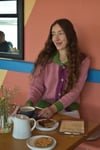 Crop Cardigan - Made in Ireland
This collared cardigan is a 100% made in Ireland. The Crop Cardigan comes from a collaboration with the Rossan team in Donegal. Handmade by Rossan on the loom using the famous flecked wool from Donegal Yarns in Kilcar.
Looking back to some of her early designs, Claire (the owner of Bramble Green) has featured block contrast colours in the cardigan inspired by the Coast and local landscape. Using wooden buttons and these natural colour shades as a nod to the authentic history of knitwear. The finished piece has a retro-modern feel.
Sizes range from XS to XL with any out of stock sizes being made to order on a 2-4 week turnaround if you email [email protected] and pay a 50% deposit for this service. Both women are wearing the S/M in the photos.
Size measurements below in inches:
Chest - 18 (XS) 20 (S/M) 22 (M/L) 23 (L/XL)
Back - 20 (XS) 22 (S/M) 23 (M/L) 23(L/XL)
Sleeve -18.5 (XS) 18.5 (S/M) 19 (M/L) 19 (L/XL)
We use UPS to post to overseas customers.